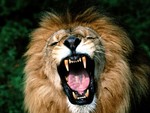 The Lion is Getting Ready
to Roar Again
Building a Prophetic Destiny for Scotland
In June 2010 the team met for several days to collate and summarise a wide range of prophetic revelation concerning Scotland. An extract of our 'Prophetic Summary' is given below:
"We sense that the 'Lion of Scotland', and the Lion of Judah in His people in Scotland, is being stirred by the Spirit of God to rise up and 'roar' again … that the nation will take hold of grace being poured out and 'find its voice' again: God-given destiny will be realised. ….

We believe a time of God's promise of awakening for Scotland has arrived … rooted in God's jealous love for the nation into which He has sowed much; there is a call to awaken and hear His voice of love. …

For the full 2010 Summary Statement, click here.